On August 21, 2017, the Great American Solar Eclipse became a reality as millions of people across the United States had the opportunity to see a Solar Eclipse. For me, the last one in my lifetime was in 1979, which I was only 13 years old, and quite frankly, back then I think I cared less about it. Fast forward to 2017.
I had been planning this celestial event for well over a year, plotting a course that would take me into Nebraska to be as close as I could to the totality path. My initial location to view the eclipse was north of Kearney, Nebraska where I found an old abandoned schoolhouse that I was planning to use as  my backdrop for the photo. All that needed to happen was for the day to arrive and we would be on our way to our target location.
Prior to the event, I began researching what I needed to be able to take photos of the eclipse in its various stages. Lat year, I purchased a set of Tiffen Pro 100 Camera filters. These filters are a must have for any landscape photography that you will ever do, as the offer a great deal of flexibility and ease in their assembly. While a basic screw-on filter would have sufficed for this endeavor, I felt the need to make sure that I had a dark enough filter to see the eclipse. I chose to use the 10 stop long exposure filter, even though I was only taking photos in moments of milliseconds. You can see these filters at their website, https://tiffen.com/pro100/. 
Being that I am also a storm chaser, about 1 week prior to the eclipse, I began to watch the weather models for any anomalies that would throw a wrench into our plans for travel to Nebraska. The models kept hinting at a storm system that would stream cloud cover over our target area, and with each run, it was becoming more and more apparent that this would be the case. Our trek to see this event was taken by myself, my wife, and fellow photographers Adam Shrimplin and Jake Thompson.  A few days before the event, it was decided that we were going to abandon our original destination and move further west into the Nebraska Panhandle.
We departed Garden City at 05:00 am to begin our 5 – 1/2 hour journey to Nebraska. We diligently watched the skies and as the sun rose that morning, it gave way to clear skies as we crossed into Nebraska from Kansas. Our initial stop was in Ogallala, Nebraska, of Interstate 80. As we approached North Platte, we began to see signs of low stratus clouds that were forming in the lower levels of the atmosphere. We proceeded west to Ogallala and arrived there around 10:30am. After stopping for fuel and something to eat, we began to proceed north towards Hyannis, which was on the line of greatest totality (2 minutes 30 seconds). Upon driving north, we began to encounter more and more low clouds, with no breaks in the overcast to see the sun.
After stopping to evaluate the sky cover situation, it was noted on the visible satellite loop that there were clear skies about 50 miles to our west. We proceeded towards Bridgeport with the intent to head towards Alliance. We decided to detour north in Broadwater, Nebraska and follow the country road north into the path of totality. Unfortunately, unbeknownst to us, the road leading to Alliance from this point was closed to local traffic only. We stopped next to a field and set up for the eclipse knowing we only had 1 minute 30 seconds of totality at this location. There were not many folks on this road, so we had plenty of opportunity to get set up to witness the show. The eclipse was already in progress when we arrived and we had less than an hour to prepare for totality. My camera of choice was my go to camera, my Canon 6D. It is quite the workhorse and I have been very pleased with it performance over the course of the years that I have
been using it. I truly love its functionality and versatility for a full frame camera. This camera is my go-to camera for everything I shoot. In order top get my close up photos, I used my Canon 70-200 2.8 lens with a Canon 2x teleconverter to give me a focal length of 400 mm. Unfortunately, by using the converter, I lost 2 stops of light and was actually shooting at F5.6. I placed my Tiffen 10 stop ND filter onto the lense and began to shoot.
Camera setting were adjustable the closer to the time of totality. I began shooting the partial eclipse at ISO 200, F5.6 @ 1 second. This allowed just enough light into the camera to catch the stages of the partial eclipse. One thing that you have to take away from this. The sun is moving and the moon is moving. You will have to adjust your camera location multiple times in order to track this movement. I did not have a sky tracking device on my tripod, so everything went manually.
It was truly an eerie feeling as the moon approached totality across the sun as the sky started getting darker, as if looking through sunglasses. Considering that this was possibly the only time in my ;life that I would witness such an event, it was very surreal. I can only imagine what our predecessors in our country thought was this celestial event unfolded back in the day before technology. Fears of the world coming to an end as the skies darkened during the daytime could only instill fear into those who witnessed it before our lifetime.
As totality approached, we had to prepare to remove our filters to capture the coronal effect of the sun's flares behind the moon. As a photographer, there is not a lot of training that you can do to prepare for such an event. I tried to research articles on best settings for the camera during totality, but decided to "wing it" and work with what I already knew. The last bits of light were starting to fade from the sky as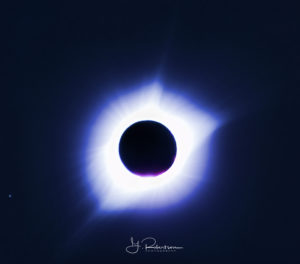 we removed our filters to witness the total eclipse. Totality had arrived! We only had 1 minute and 30 seconds to get it right. I began to take a multitude of photos at different settings quickly before the sun appeared again, all the while taking in the surroundings or crickets chirping and a 360 degree sunset. The temperature dropped about 10 degrees at our location. What an awe inspiring sight to see with the naked eye! There are and were a lot of people in this new generation who had never witnessed such a sight! Watching the corona light dance around the rim of the moon was something of fairy tales of what you would read in a science fiction novel.
Shortly thereafter, the sun began to emerge from the back of the moon. The filters went back on the cameras and we began to take photos of the last phases of the eclipse. We began our journey back home around 12:30 pm. We stopped for a quick bite to eat at a favorite Bar & Grill in Goodland Kansas which my wife and I had frequented on a few of our storm chasing expeditions. If ever in Goodland, we recommend the Crazy R Bar & Grill on Main Street. If you have a hearty appetite, this place has some good eats including my favorite… Deep Fried Bacon!
I await the 2024 Eclipse in Dallas Texas and hopefully I am still around for the 2045 eclipse in southwest Kansas. That one will be very special, as it will be close to home with the path of totality line only 25 miles to my south. It is understood that the totality may last over 5 minutes.
Follow me on my Facebook page and leave a comment here. Let me know what you experienced during the eclipse. I would love to hear your story and how it affected you!