Recently, I had the opportunity to photograph a bride-to-be in one of the most spectacular places in Western Kansas. Monument Rock lies about an hour or so north of our studio in Garden City. Although it lies on private property, permission is not needed to visit the sight during the daytime and evening hours. Known as the Chalk Pyramids, these formations were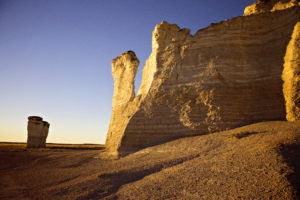 created approximately 80 million years ago when this part of Kansas was a vast sea. This location has become a favorite of local and traveling photographers as these formations rise above the High Plains of western Kansas owing to becoming backdrops for some of the most stunning sunsets that Kansas is known for.
In trying to create art within my photography, all of my bridal clients receive a sunset photo session with their booking. I want to give the bride-to-be an opportunity to model her dress before the wedding, and provide a spectacular session that the groom will treasure for years to come. Western Kansas and the central High Plains provide me a lot of opportunities to capture these sunset session, from golden wheat fields and dilapidated barns to the rising formations of Monument Rocks. We even traveled to Crested Butte, Colorado to capture an engagement session 9500 feet in the mountains along a pristine waterfall. The beauty of this part of the country is like no other, and even gets better further west into New Mexico and Utah.
Cindy, my client, contacted me to capture her wedding but was on a budget. She knew she wanted professional photos done. We sat down and came to an agreement as to what her needs and wants were, as well as her expectations. I feel that no one should have to go without photos on their special day, so we devised a budget that would give her these special photos. That was the easy part. The hard part would be trying to find the right sky conditions to capture the pre-wedding session, as the weather pattern for western Kansas was locked into a northwest flow, allowing for storms about every other day somewhere in the High Plains. The evening of the session was quite concerning to me as there was a thunderstorm in northeast Colorado, with high clouds streaming southeast. I knew we had limited time to get set up and make this work.
I brought a variety of equipment for the session, not sure of what I would use or need, but kept thinking of fresh ideas to utilize the equipment to its potential as well as try out a new piece of equipment that I had recently purchased. For most of my outdoor sessions, I use a speed-lite in a softbox. The softbox is great for low light conditions as well as a filler for shaded areas. I have several different softboxes that I use, both made by Westcott. Knowing that I needed a good strong flash, I chose to use one of my Westcott Strobe-lite Plus studio strobes with a 43″ Apollo Orb Octobox. Powering the strobe was my new Paul C. Buff Vagabond Mini battery pack. We were able to move around the location with ease, aside from fighting  bit of a wind, which is typical of this part of Kansas.
Cindy got into her dress and we began our session which lasted about an hour and a half. She looked radiant and stunning, just as a bride to be should. The equipment performed better than my best expectations. We used various locations on the site to capture the moments. This session was one of the most satisfying as a professional photographer. My client was excited to have her photos done and worked well with us to create the end results below. The wedding was just as beautiful, and her groom was in awe of the photos we did for this session.
If you have a wedding coming up or know someone who does, please have them consult with me. I would be happy to provide them with these one of a kind photos that they will cherish for years to come.